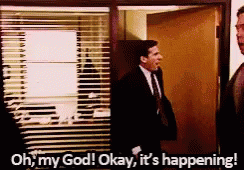 Officially making 2023 the year of apparel sewing!!
This project has actually been on my mind for a few months now. I had a fabulous time at a swing dance event in St. Louis, Missouri last November. A lot of the female-presenting folks were wearing these knit skirts, and they were utterly perfect for swing dancing: comfy, kind of fancy, pretty flattering, and allow movement for dancing.
After this trip, I tried to buy such a skirt and could find none available commercially. Naturally, the next step was to try and make one myself.
I used the Pirate Pencil Skirt pattern from Patterns for Pirates (it's free!) and found a navy knit in the fabric stash I got from my friend's grandma (also free. Your girl paid nothing for this skirt!). It was such a satisfying, quick project. I cut the fabric and did all the sewing over a lunch break.
But the body dysmorphia struck again, and I made it too big… Enh well, I was still hooked. So, I took in the side seams, found my new size, and ran to JoAnn's to pick up some new knit fabrics (the skirts from here on are not free!).
I got a classic black, pictured here, and a bright blue I'm hoping pairs with a hand-knit top for an upcoming neon night. The later is still in progress, but I hope it will be ready for my next big event in Houston. I feel like a real swing dancer now!!